Snails Stuffed With Pork – Ốc Bươu Nhồi Thịt
Snails Stuffed With Pork
By Helen Le Published: September 7, 2021
Prep:

15 mins

Cook:

45 mins

Ready In:

60 mins



Yield:

2-3 Servings
Stuffed snail with lemongrass and minced pork is one of the most classic ways to enjoy larger snails like Ốc bươu. You will need some technical skills to make this one, but the result is going to be very satisfying. Let's begin!
Print
Instructions
Line the steaming basket with some bruised lemongrass, ginger slices, and lime leaves. Place the pond snails on top, facing the part with the cap upwards. Steam until the cap pops out for just about three to five minutes. Steaming too long will make the snail's meat very chewy.




Use a fork to pluck out the meat. We only eat the chewy meaty part. Cut off and discard the other half. Gather the snail meat in a bowl, add some salt and lime juice Massage with your hands to remove the sliminess. Then rinse again with tap water, drain and cut into dices.




Toss the shell with some salt. Use a lime wedge to clean the shell inside and out.




Combine the diced snail meat with the pork paste and pork minced. Add minced shallots and garlic, minced lemongrass, chili flakes, stock powder, a tablespoon of fish sauce, half a tablespoon of sugar, half a teaspoon edge of pepper, chili flakes, and some fine lime leaves thread. Mix well, leave to marinate for about 15-20 minutes.




Separate the outer layers of 2 stalks lemongrass. Bruise slightly to make it more flexible.




Insert one lime leaf into the shell, fold one separated lemongrass leaf in half. Place it into a snail shell stuff with about a tablespoon of the fillings. Press to stick the fillings into the shell, top with a slice of fresh chilies. Repeat until finish.




Arrange snails into a steamer. Steam for another 15 to 20 minutes and your stuffed snail is done.




For the dipping sauce, combine 4 tbsp of fish sauce, 1 tbsp of lime juice, 1 tbsp of sugar and some minced garlic, chilies and ginger. Mix well.




Serve with some Vietnamese mint, some green star fruit slices, and fresh cucumber.



Snails Stuffed With Pork – Watch how to make it on Youtube
About me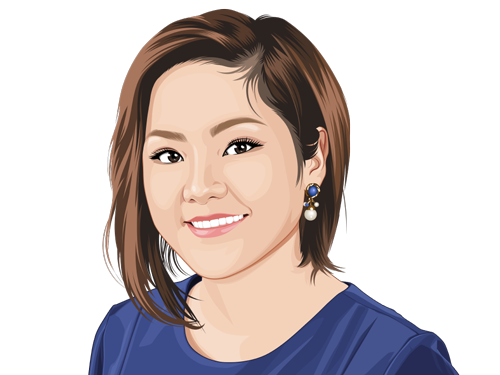 Since 2011, Helen has shared her video cooking tutorials on social media to help food lovers cook Vietnamese dishes at home in the quickest and most authentic way. Helen has been featured in many magazines and television programs as a character as well as cooking show host. Helen is also the author of several best-selling cookbooks released for the Vietnamese and international markets. Her cookbooks available in English, Vietnamese and Chinese can be found on most e-commerce sites and bookstores around the world.
Get Vietnamese food trend updates
Fanpage